Description of BBS
Running on Lt. Kernal, Swiftlink, a few 1581's, and some good old fashioned uniqueness.
Description of BBS
The original WN2 from 1994 back online. PFiles, MFiles, TFiles, Large UD Library
Description of BBS
The only Image 2.0 BBS in existence online.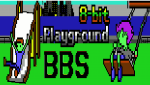 Description of BBS
The last of its kind, with every online game available for DS2 - The headquarters for the Digital PackRat and HVI Mods
Description of BBS
Boar's Head runs on Holy Moses modded C*Base v3.1 on a Commodore 64 passed a TCPSER TCP/IP-serial bridge called Tannhauser Gate.
Description of BBS
A blast from the past C-Net 128 v7.2+ 1 of only 2 known C-Net 128 boards running. Software has issues, but it runs pretty well overall.. Local message bases, and being built from the ground up. PFiles to come soon...
Description of BBS
Commodore Image BBS 2.0 Head Quarters!
Description of BBS
Finland newer had any C64 BBS scene so i did not see any PETscii BBS so i setup my own
Description of BBS
Just a BBS to help with correspondence and fun in the retro community.
Description of BBS
This is an old school type BBS that has been around "mostly" since 2005.
Project goals are Reliability and great software selection and message boards.
Lots of Rom images for many systems (Some Newer AND older than the c64) - come see for yourself!
Description of BBS
Back after 30 years. Original BBS software which is likely one of the most flexible available for the C64. BBS software available for free including source code to others that want to run a bbs on it. BBS itself is generally the way it was when shut down 30 years ago... a bit of a time capsule.
Description of BBS
Been around for 30 years which is... like.. a long, long time. 900+ active users, 30,000+ posts, thousands of files to download, you name it. We're a welcoming bunch of people.