Description of BBS:
Running on Lt. Kernal, Swiftlink, a few 1581's, and some good old fashioned uniqueness.
Description of BBS:
The original WN2 from 1994 back online. PFiles, MFiles, TFiles, Large UD Library
Description of BBS:
A fun wild BBS with lots of Mystic customization, super active sysOp, most of the FTNs you want to read, 100s of door games and personal touches like the ANSi-Story.
Description of BBS:
8-Bit Boyz BBS is this websites official BBS! Offering fsxNet, FidoNet, RetroNet, CNet message networks, inter bbs games and more!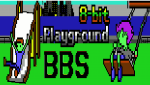 Description of BBS:
The last of its kind, with every online game available for DS2 - The headquarters for the Digital PackRat and HVI Mods
Description of BBS:
Real BBS – Real Apple II – Real 5.25 Disks
A 80's Apple II BBS is running on a real Apple IIe with real 5.25 Duodisk. The Software is GBBS Pro V1.2 DOS3.3 – developed at the beginning 1980's.
This is a real Apple II BBS, a real BBS with the hardware setup from the beginning 80's – the Apple, the disks, the clock card a.s.o. … nothing is built past 1984.
You will have to wait from time to time till the disks have uploaded the data. You will have to understand how a board developed at the beginning 80's works. And then … you will be a member of an exclusive group of people who share information and knowledge on the board and who enjoy this great feeling of the real BBS-Style!
The 8 Bit Wiki Board – where to find all about and all for your classic computer.
Cloud Service for all classic computer.
The War Games Game.
ASCII Art Gallery.
Moreover are a lot of VisiCalc sheets for download offered.
Enjoy the board!
Description of BBS:
The System Operator's primary motivation in running this BBS is to have fun in retro computing. He exerted effort to make this BBS give you a mid-1990's BBSing experience. FsxNet and Fidonet echo mail areas are available here. Popular door games such as (but not limited to) LORD, LORD2, Global War, etc., can be played here.
Description of BBS:
Over 30+ Registered Door Games like LORD, TW2002, And More. Over 540,000 Files available in Downloads. Large Selection of BBS System Software and Online Doors. All Night Owl, Simtel, and Walnut Creek BBS CD-ROM Loaded on System. Duke Nukem, Doom I/II, Hexen, Commander Keen and more. FULL ACCESS ON FIRST CALL
Description of BBS:
Old school Worldgroup board in Louisville, Ky. Original beta testers for MajorMUD along with many other games, including Tradewars and Swords of Chaos.