Description of BBS
Running on Lt. Kernal, Swiftlink, a few 1581's, and some good old fashioned uniqueness.
Description of BBS
The original WN2 from 1994 back online. PFiles, MFiles, TFiles, Large UD Library
Description of BBS
The only Image 2.0 BBS in existence online.
Description of BBS
A fun wild BBS with lots of Mystic customization, super active sysOp, most of the FTNs you want to read, 100s of door games and personal touches like the ANSi-Story.
Description of BBS
32-Bit BBS is one of the few Spitfire BBS's still online. This is a complete rebuild of my first BBS back in the early 90s right down to the ANSI menus. Thanks to an old backup i was able to recreate it and thanks to NetSerial I'm able to logons via telnet. We have two full menu of door game classics that we all loved back in the day.
Description of BBS
A BBS for everything related to retro macs.
Description of BBS
8-Bit Boyz BBS is this websites official BBS! Offering fsxNet, FidoNet, RetroNet, CNet message networks, inter bbs games and more!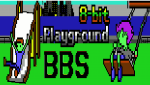 Description of BBS
The last of its kind, with every online game available for DS2 - The headquarters for the Digital PackRat and HVI Mods
Description of BBS
The System Operator's primary motivation in running this BBS is to have fun in retro computing. He exerted effort to make this BBS give you a mid-1990's BBSing experience. FsxNet and Fidonet echo mail areas are available here. Popular door games such as (but not limited to) LORD, LORD2, Global War, etc., can be played here.
Description of BBS
Over 30+ Registered Door Games like LORD, TW2002, And More. Over 540,000 Files available in Downloads. Large Selection of BBS System Software and Online Doors. All Night Owl, Simtel, and Walnut Creek BBS CD-ROM Loaded on System. Duke Nukem, Doom I/II, Hexen, Commander Keen and more. FULL ACCESS ON FIRST CALL
Description of BBS
Old school Worldgroup board in Louisville, Ky. Original beta testers for MajorMUD along with many other games, including Tradewars and Swords of Chaos.
Description of BBS
The author of the popular YouTube documentary "Back to the BBS" now has a complimentary BBS. It features curated retro-computing content, MRC Inter-BBS chat, some great message networks (fsxNet, Araknet, RetroNet and tqwNet) and some great extra add-on mods, including some custom mods not seen anywhere else such as CoinInfo! Work is being made on it all the time, so come on down and get "Back to the BBS!"
YouTube: youtube.com/alsgeeklab
tqwNet: 1337:2/104 | ArakNet: 10:103/16
RetroNet: 80:505/18 | fsxNet: 21:1/126
Description of BBS
***OFF LINE as of 12/21***
Due to abuse of the system by a user who apparently has nothing better to do than troll bulletin boards, we've had to implement a rotating new user password.
Current new user password: FR33B33R
Alcoholiday BBS! Est. 1995, reborn in 2001, and born yet again in 2015. Running Mystic on a Raspberry Pi 2, a dozen message nets, three stylish themes (custom art by Blocktronics, Impure and more). "The online cyber keg party."
Alcoholiday is not an "art board" per se, but a board that appreciates good art — both of the "Amiga ASCII" and CP437 ANSI variety. Our main theme is called "Danger Girl" and is inspired by deadly women of comic books.
"The West Gate" is Alcoholiday's more mystical alter-ego, based on the symbolism of Freemasonry, and is available as a theme at login. We also have a "Minimal" theme that is purely ASCII-based for ease of use with non-ANSI terminal clients, and limited mobile apps.
Alcoholiday has very few file areas, as we believe the spirit of the traditional bulletin board is within its message bases. However we are an official iMPURE Ascii distribution site, and we do feature a handful of unique file bases for retro esotericism.
We suggest Netrunner or Syncterm for the best experience. Both clients will automagically change fonts so ASCII resembles its traditional Amiga font, and ANSI blocks are represented properly. The browser-based terminal below will also work, but results may vary.
Alcoholiday wouldn't exist without the help and support of a few folks: Caphood, Jack Phlash, Griskokare, Luciano, g00r00, Avon, Metalhead, Gryphon, H7, Skuz, Shooter, Weatherman, and many others.
Be sure to follow Alcoholiday on Twitter @alcoholidaybbs as I post all sorts of BBS-related stuff there.
-Zero Reader
Networks carried:
– AgoraNet (46:1/166)
– ZeroNet (911:1803/0)
– DoRENet (44:100/1)
– DOVE-Net
– Survival Net (9:91/18)
– fsxNet (21:1/113)
– FidoNet (1:123/525)
– WWIVnet-FTN (11:1/202)
– VKRadioNet (432:1/103)
– RetroNet (80:774/8)
– CyberNet (40:200/20)
– Usenet
Home of several Python scripts by Zero Reader:
– Solar-Terrestrial Data
– Raspberry Pi System Info
– Google Trends (ported to Python from Frost's original script)
– TopBox (The weekend's top-grossing films)
– Local weather/Moon phase conditions
– Trump Tweets (For fun… not a political statement)
– RSS Robot for dumping RSS feeds into message bases
– Drunken Quotes
– And more…
Description of BBS
BBS for fans of the Commodore Amiga